1 Day Paddles & Battles
July 25, 2020
1 day paddles & battles – Raft & Paintball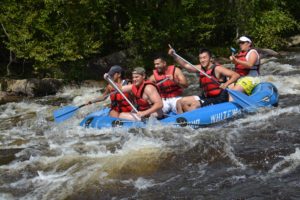 We're offering our 1 day Paddles & Battles adventure. Go Dam Release Whitewater Rafting on the Lehigh River in the morning. Then make your way to our Skirmish paintball fields to play Skirmish Nights that evening! That's 2 adventures at 1 low rate. This duo is only $69.99 per person, ages 10 and up.
Pre-registration is required for our 1-day Paddles & Battles event. Anyone ages 10 and up can participate. You can call 570-325-8430 to reserve.
Skirmish Nights runs from 5:00 PM – 8:30 PM.