1-day Paddles & Battles
May 30, 2020
1-Day Paddles & Battles anyone?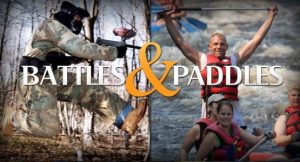 We're offering our 1-Day Battles & Paddles today. Enjoy 2 activities in 1 big day. Two of our adventures at one low price!  Only $69.99 per person pre-registered.
Start by whitewater rafting the rapids of the Lehigh River in the morning.  Then make your way to our Skirmish paintball fields for Skirmish Nights from 5-8:30 PM.
You must pre-register for this event. Reservations can be made by calling 570-325-8430.
Rates:
Includes:
Whitewater Raft trip on the Lehigh River with Pocono Whitewater
All necessary rafting equipment
Entry to Skirmish Paintball's evening play
Professional referees
Unlimited N2 air fills
Paintball gun
Goggles/facemask
Rafting Options:
Choose our Dam Release Gorge Whitewater or our Family Style Rafting:
Dam Release Gorge Trip: Class II & III rapids. Most intense trip we offer.
Family Style Trip: Class I & II rapids. Free riverside BBQ lunch included.
Visit Pocono Whitewater to decide which adventure is right for your group!
Skirmish Nights is played from 5 pm to 8:30 pm. Ages 10 and up.