Castle Nights
July 21, 2018
Castle to Castle Play
Skirmish offers over 50 playing maps spread out across 750 acres. We offer maps that are completely filled with woods, ones with bridges and bunkers, and ones with entire cities! We have open fields, huge shipping containers, air filled bunkers, and down helicopters. With all of these features and new ones every year, the most played and most revered field is and probably always will be…..Tippmann Castle.
The castle is timeless, respected, and just huge.  Whether you are defending or charging, you will enjoy this game of strategy and skill.  Everyone gets a chance to play at Tippmann Castle during our Castle Nights Paintball game.
2018 Dates:
May 26
June 9
July 21
August 11
September 1
October 6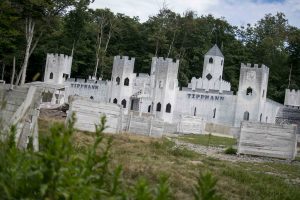 2018 Rates:
$24.99 per person - preregistration discount
$30.99 per person - game day registration
If you come out to play paintball during the day, you can stay...Castle Nights is FREE for you!
INCLUDES:
Admission to the Skirmish paintball fields
Paintball gun rental
Goggles/facemask rental
Unlimited N2 air fills
Free parking
Professional paintball referees
Castle to castle play
Want more adventure?  Go Whitewater Rafting in the morning and come for Castle Nights in the evening!  Call 1-800 Whitewater (570-325-3654) to reserve today!
Book Now