Hammerfall AIRSOFT Game
September 23 - 26, 2022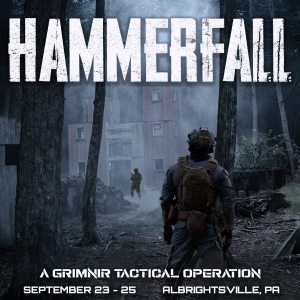 Operation Hammerfall, a 3-day airsoft event hosted by Grimnir Tactical
Following intense fighting at Galahad Research Station, the 13th Legion was able to recover artifact ARK and fend off the CFI counterattack. Now, thanks to the efforts of DAGR-1, the 13th has determined that ARK is only one piece of the puzzle.  It seems that the main objective is at the Forge, which has become the main CFI stronghold since it was initially captured in 2334 during CFI's initial attack.
With ARK in hand, several victories, and a clear objective, the time has come for CMDR Connolly and the rest of the 13th to return where it all began, Forge 11.
Meanwhile, Rabbit, Mongo, and Shepherd have returned to the Forge to prepare their defenses and continue their excavation of the surrounding area.  While ARK is critical for completing their mission, Venus holds more than one secret that needs to be unearthed…and the 13th is poised to bring ARK right where the CFI needs it.
Return to where it all began and take back the Forge!!
This is a Grimnir Tactical event. For reservation information and game details, please visit their website: GrimnirTactical.com