Ladies Day Weekend
July 03, 2021
Ladies Day – Play FREE!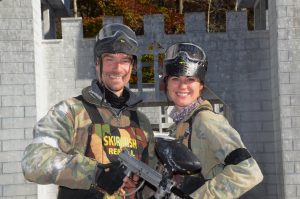 Skirmish Paintball has been offering Ladies FREE entry on Ladies Day since 2009. Paintball is still a male dominated sport, but we love giving all our lady friends a chance to take over. All women play FREE today!! Really you ask? Ah yeah, totally FREE basic entry today (a $39.99 value).
Want a chance to show up your guy? Bring him along. He'll have to pay, but you'll still be FREE! You could also leave him at home and make it a girlfriends only getaway. Better yet, grab all your friends and their partners and do a gals vs. guys, the perfect way to take out some of that aggression…
You can also pair Ladies Day with a whitewater rafting or biking trip for an ultimate weekend adventure.
2021 Ladies Day Dates
April 24th
April 25th
June 13th
July 3rd
July 4th
September 18th
Online reservations currently unavailable for Ladies Day. Reservations can be made by calling 570-325-8430.
2021 Ladies Day Basic Entry
FREE for Ladies that are pre-registered, ages 10 and up
Includes:
Entry to the premiere Skirmish Paintball fields
Tippmann 98 paintball gun rental
Goggles/facemask rental
Unlimited N2 air fills
Free parking
Professional paintball referees
All day play