Ladies Day
February 10, 2023
How many women love free stuff?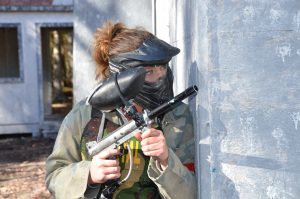 Well you get to play Skirmish Paintball free today! Any pre-registered ladies (ages 10 and up) get the Basic Entry Paintball Package for zip, zero, zilch, nada. That's a savings of $41.99! We even give you 100 paintballs free, pre-registration required. Paintball is still a male dominated sport, but we love giving all our lady friends a chance to take over.
Want a chance to show up your guy? Bring him along. He'll still have to pay for entry, but as long as he is pre-registered he'll get 100 paintballs free! You could also leave him at home and make it a girlfriends only getaway. Better yet, grab all your friends and their partners and do a gals vs. guys, the perfect way to take out some of that aggression…
No salon needed to play here. Toss your hair up in a messy bun, roll out in sweats and a hoodie, and be ready to kick some 🍑!!!
If you would like to turn your weekend into a fun-filled adventure, you can pair our Ladies Day paintball event with rail-trail biking or whitewater rafting.
2023 Ladies Play Free Dates
February
March
April
June
July
September
Online reservations currently unavailable for Ladies Day. Reservations can be made by calling 570-325-8430.
PAINTBALL WAIVER:
Every person that plays Skirmish Paintball must sign a liability waiver.  If there are any paintball players coming to Skirmish that are under the age of 18, a parent/guardian must sign for them.  Click here to download and sign your Skirmish Paintball waiver.
2023 Ladies Day Rate:
FREE for all ladies – pre-registered, ages 10 and up.
Every person that makes advance reservations at least one day in advance will receive 100 FREE paintballs.
$41.99 per person – game day registration, ages 10 and up.
New Rainy Day Policy! Concerned about the weather? Skirmish Paintball is played year-round in all types of weather.  We do offer a "rainy day policy".  So, while you are playing, if it rains or snows a measurable amount for more than a half hour, we will give you a free pass to come back another day.
BASIC PAINTBALL PACKAGE INCLUDES:
Entry to the premiere Skirmish Paintball fields
Tippmann 98 paintball gun rental
Goggles/facemask rental
Unlimited N2 air fills
Free parking
Professional paintball referees
All day play