One Day Paddles & Battles
September 05, 2020
One day paddles & battles – Raft & Paintball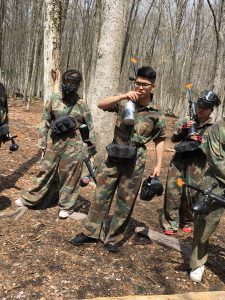 We're offering our one day raft & paintball adventure – Paddles & Battles. First, you'll go Whitewater Rafting on the Lehigh River in the morning. If you choose the Dam Release Whitewater Rafting option you'll be surrounded by state park protected mountains while enjoying 12 miles and 4-5 hours of Class II, III whitewater and breathtaking scenery.
The Family Style option is ideal for beginners and those that just want to kick back, relax and enjoy the outdoors. This is an 8 mile, Class I, II whitewater rafting trip with a touch of Class III whitewater. Whether you're paddling through whitewater rapids, enjoying the passing scenery or taking a swim in the river, we guarantee you will have a great time making memories with your friends and family.
Then make your way to our Skirmish paintball fields to play Skirmish Nights that evening! Skirmish Nights runs from 5:00 PM – 8:30 PM. That's 2 adventures at 1 low rate. This duo is only $69.99 per person, ages 10 and up.
Pre-registration is required for our 1-day Paddles & Battles event. You can call 570-325-8430 to reserve your spot today! Online booking for this event is currently unavailable.
Rates:
Includes:
Whitewater Raft trip on the Lehigh River with Pocono Whitewater
All necessary rafting equipment
Entry to Skirmish Paintball's evening play
Professional referees
Unlimited N2 air fills
Paintball gun
Goggles/facemask
Rafting Options:
Choose our Dam Release Gorge Whitewater or our Family Style Rafting:
Dam Release Gorge Trip: Class II & III rapids. Most intense trip we offer.
Family Style Trip: Class I & II rapids. Free riverside BBQ lunch included.
Visit Pocono Whitewater to decide which adventure is right for your group!
Skirmish Nights is played from 5 pm to 8:30 pm. Ages 10 and up.