Young Guns Day
August 16, 2020
Skirmish's Young Guns Day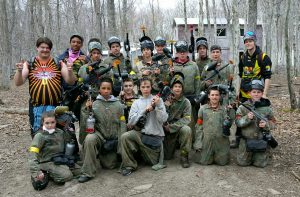 Skirmish's Young Guns Day is designed to let teenagers play against other teenagers. They can devise their own tactics and strategies, make their own decisions, and learn the value of teamwork. Our experienced ref staff will accompany them the entire day, teaching them tips on how to further develop their skills.
Only $19.00 per person (ages 10 through 17), pre-registered. Game day registration is $27.00 per person.  
Parents can feel free to drop off their kids, just make sure you fill out and sign the liability waiver ahead of time. Also, lunch is not provided so you can pack a lunch or send along some spending money. We also have a fully stocked Pro Shop with paintball supplies to purchase.
Young Guns Admission:
$19.00 per person - pre-registration discount, ages 10-17
$27.00 per person - game day registration, ages 10-17
Every person that makes advance reservations and is paid in full at least 24-hours in advance will receive 100 free paintballs.
Young Guns Includes:
Entry to the premiere Skirmish Paintball fields
Paintball gun rental
Goggles/facemask rental
Unlimited N2 air fills
Professional paintball referees
All day play
Additional Information for Parents:
If there are any paintball players coming to Skirmish that are under the age of 18, a parent/guardian must sign for them.  Click here to download and sign your Skirmish Paintball waiver.
Lunch is not provided. Please pack a lunch or send money with your child to purchase lunch, drinks and snacks. Click here for our food vendor's menu.
It is recommended you dress your kids in sturdy footwear and long layers to protect their skin. We offer additional rentals and items for purchase. Examples include belts packs, camouflage jumpsuits, body armor, etc.
Paintballs can be purchased in advance or at the fields.